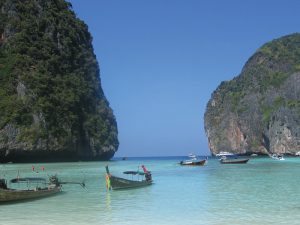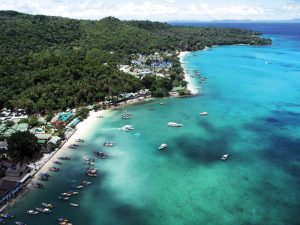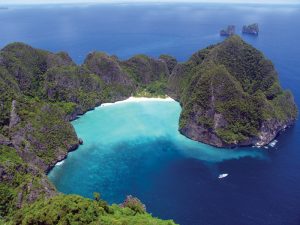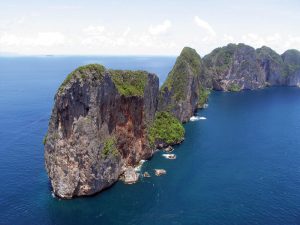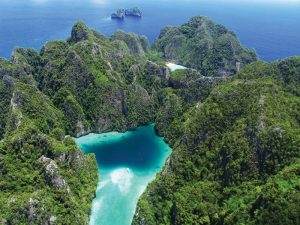 Phi Phi Facts
---
Timezone: GMT +7
Average Temperature:31°
Currency: Thai Baht
Phi Phi Yacht Charter & Sailing Phi Phi Thailand
Overview
Phuket Charter Boat offers great sailing charters to the famous Koh Phi Phi Islands. You can be assured of the best Phuket yachts while enjoying the beauty of the island.
Koh Phi Phi became famous worldwide since it was featured in the movie "The Beach" starring Leonardo DiCaprio back in 2000. In fact, though critics say that the movie production did damage on the islands, it significantly increased tourism in Thailand. Presently, the number of tourists that visit the island is still increasing every year. If you happen to visit the Koh Phi Phi Island, you will not be disappointed by its grandeur and beauty.
Special things to do
It is said that Koh Phi Phi is one most beautiful islands in the entire world. In total, there are six islands in Phi Phi which is located in the Southern part of Thailand. The attractions here include the Viking Cave, limestone mountains and white sand beaches. Koh Phi Phi is also one of the most popular destinations for scuba diving in all of Thailand. The diving sites in Phi Phi are usually just around ten minutes away from the shore.

You can enjoy all of these Phi Phi yacht charters, by motor boat or bareboat charter offered by Phuket Charter Boat.
Phi Phi Sailing Information
---
Phi Phi Seasons
If you want to get the best out of your vacation to the Koh Phi Phi Islands, visit at around November to mid April. This is the peak season of tourism because of the clear skies and calm waters. Aside from that, it is not humid at this time of the year.

Local marinas:
Phuket charter boat departs for Phi Phi from the following Phuket marinas
Yacht Haven Marina
Boat Lagoon Marina,
Royal Phuket Marina,
For alternative departures to the Phi Phi Islands please contact us
Sailing Phi Phi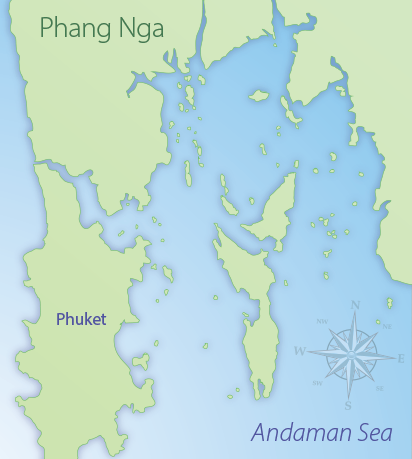 Travelling to Phi Phi
---
By plane to Phi Phi
There is no direct airplane transportation to Phi Phi you can reach the islands by boat. The nearest airports are at Krabi, Trang and Phuket.
Phi Phi & Phuket hotels and accommodation
---
You can get all kinds of accommodation in Phi Phi islands in Phuket like beach resorts, hotels of all budgets. You may need to make an advance reservation in the December holiday season but still you can find some vacant guesthouses. Guesthouse here are quiet affordable and cater to the tourists needs. Being the most popular tourists destination of Phuket, Phi Phi islands has all kind of accommodations for tourists with different budgets for staying here.
Contact us for day trips and sailing tours related information in Phi Phi islands or you want us to assist you with accommodations and various boat and yacht charter holidays.
Phi Phi weather guide
Phi Phi weather guide

Month

Jan

Feb

Mar

Apr

May

Jun

Jul

Aug

Sep

Oct

Nov

Dec

Year

Average high °C (°F)

31.8
(89.2)
32.9
(91.2)
33.5
(92.3)
33.4
(92.1)
32.0
(89.6)
31.6
(88.9)
31.2
(88.2)
31.2
(88.2)
30.7
(87.3)
30.9
(87.6)
31.0
(87.8)
31.2
(88.2)
31.8
(89.2)

Average low °C (°F)

23.3
(73.9)
23.7
(74.7)
24.3
(75.7)
24.8
(76.6)
24.5
(76.1)
24.5
(76.1)
24.2
(75.6)
24.4
(75.9)
23.9
(75.0)
23.8
(74.8)
23.8
(74.8)
23.7
(74.7)
24.1
(75.4)

Rain mm / inches

29.8
(1.173)
20.9
(0.823)
49.1
(1.933)
121.9
(4.799)
319.4
(12.575)
268.9
(10.587)
290.5
(11.437)
272.6
(10.732)
399.0
(15.709)
309.6
(12.189)
175.7
(6.917)
59.4
(2.339)
2,316.8
(91.213)

Avg.rain days

4

3

5

11

21

19

19

19

23

22

16

8

170

sunshine hours

286.2

271.5

282.3

247.9

188.5

139.5

172.6

174.1

143.2

179.8

197.1

244.3

2,527.0