Sailing Phang Nga Bay Thailand
Overview
---
There are over 100 islands on Phang Nga Bay. These include James Bond Island which is popular for its high rising lime stones that rise out of the waters in a vertical fashion and display breath taking picturesque views. It is preferred by most number of tourists that visit Phang nga and Phuket for a one day tour.

You will enjoy your visit at the variety of caves and mangroves at Phang Nga. The stunning shorelines of this bay are loaded with magnificent sceneries as you take pleasure of the sheltered tranquil waters and watching over a wide variety of wildlife, birds and the nature.
Unforgetable things to do
Phang Nga Bay has lots of excitement to offer for visitors who are interested in sailing. From the novice to the experts, they can enjoy sailing at Phnang Nga Bay. Phang Nga's sheltered and shallow water makes it a very ideal place for learning the techniques of sailing. Aside from learning sailing and spending time sailing on the clear waters of Phang Nga, you have the option to escape the crowd and hire a private yacht charter. You and your loved ones will surely have a great time enjoying the tranquillity and beauty of Phang Nga Bay for an enthralling Phuket Day Sail.
James Bond Island
James Bond Island is a famous tourist attraction that can be found in Phang Nga. This island became popular when it was used as location for a James Bond film in 1977 called "called "The Man with the Golden Gun" (1977). This film starred Roger Morre in the lead role and Christopher Lee as the character actor named Scaramanga. 
Phang Nga National Marine Park
Declared as a Ramsar Sited protected area in August 2002 under PD No. 1185, Phang Nga Bay had an international impact and significance to ecological preservation efforts. The Phang Nga National Park prides itself of many rare and endangered species that include 82 species of fish, 88 species of birds, 3 species of amphibians, 18 species of reptiles, 17 species of mammals.
Phang Nga Sailing Information
---
Phuket Sailing Seasons
Located North of Phuket, Phang Nga is a spledid destination year round for some of the world's finest scenery. Phang Nga makes sailing in phuket world class.

From May to October, during the winter months of Thailand the southwest monsoon offers very good winds with an average speed of 12 knots. There are still many available times for clear blue skies with occasional rain showers, of which some are heavy. Nonetheless, the temperature rarely drops below 26'C that makes Phang Nga still a great place for sailing.

Local marinas:
Phuketcharter boats departs for Phang Nga from the following Phuket marinas: 
Yacht Haven Marina
Boat Lagoon Marina,
Royal Phuket Marina,
For alternative departures to Phang Nga please contact us
Gallery
---
Sailing Phang Nga Bay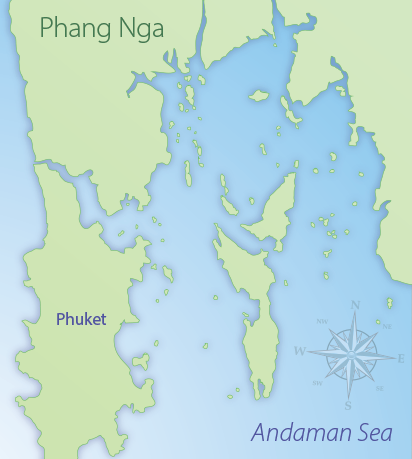 Travelling to Phang Nga
---
By plane to Phang Nga
Phuket is a great place to start your Phang Nga sailing vacation as it is easily accessible from many international airports. Many airlines fly direct to Phuket Airport from countries like Australia, Europe and many Asian countries like Hongkong, Singapore, Kuala Lumpur
Domestic flights connect Phuket with nearly all in Thailand.
By bus to Phang Nga
Air-conditioned buses leave Bangkok Bus Terminals heading for Phang Nga several times a day. Buses normally leave in the evening and arrive the following day after a 13 hours drive.
Phang Nga & Phuket hotels and accommodation
---
Phuket is an idea base location for those of you who wish to sail Phang Nga as in many cases the boats we provide will be based in Phuket. Offering many types of accommodation from guesthouse through 5-star premium quality hotels to private villas, Phuket is often the first choice for our clientele. Alternatively Phang Nga has some delightful accommodations to offer that include traditional close to nature villas, Health and Wellness canters private villas and premium quality hotels. At Phuket Charter Boat our relationships with guesthouses, Phuket hotels and villas enables us to help our clients to find the right accommodation for their vacation.
Please contact us if you would like us to assist you with accommodation for you Phang Nga yacht charter vacation.
Phang Nga weather guide
Phang Nga weather guide

Month

Jan

Feb

Mar

Apr

May

Jun

Jul

Aug

Sep

Oct

Nov

Dec

Year

Average high °C (°F)

31.8
(89.2)
32.9
(91.2)
33.5
(92.3)
33.4
(92.1)
32.0
(89.6)
31.6
(88.9)
31.2
(88.2)
31.2
(88.2)
30.7
(87.3)
30.9
(87.6)
31.0
(87.8)
31.2
(88.2)
31.8
(89.2)

Average low °C (°F)

23.3
(73.9)
23.7
(74.7)
24.3
(75.7)
24.8
(76.6)
24.5
(76.1)
24.5
(76.1)
24.2
(75.6)
24.4
(75.9)
23.9
(75.0)
23.8
(74.8)
23.8
(74.8)
23.7
(74.7)
24.1
(75.4)

Rain mm / inches

29.8
(1.173)
20.9
(0.823)
49.1
(1.933)
121.9
(4.799)
319.4
(12.575)
268.9
(10.587)
290.5
(11.437)
272.6
(10.732)
399.0
(15.709)
309.6
(12.189)
175.7
(6.917)
59.4
(2.339)
2,316.8
(91.213)

Avg.rain days

4

3

5

11

21

19

19

19

23

22

16

8

170

sunshine hours

286.2

271.5

282.3

247.9

188.5

139.5

172.6

174.1

143.2

179.8

197.1

244.3

2,527.0